Bill O'Reilly Hammers 'Vicious Far-Left Website' Media Matters After Orbitz Declines Fox Boycott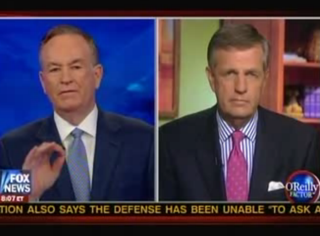 Bill O'Reilly began his program today with a rather celebratory Talking Points Memo. The occasion was a combative one, a twofold victory that once again demonstrated his and Fox News' place in the media world: Orbitz's rebuke of Media Matters for trying to get them not to advertise on the network, and O'Reilly's personal victory as America's most trusted journalist (after "Don't Know" and "Nobody").
O'Reilly is not one to very often take the time to attack Media Matters for their work in usually monitoring the network, though he seemed to have found their latest attempt to get Orbitz to boycott Fox News particularly offensive. Calling it a "vicious far-left website," he commended the "patriots" at Orbitz and gave them a bit of a free advertisement, and found only one viable explanation for the escalation in outrage: "the presidential election of 2012." Since Fox News' ratings during the 2008 election were so high, and because the network was "fair" to both sides, O'Reilly argues the left is infuriated at them. "If you do not openly support president obama, you are the enemy." Furthermore, he highlighted a specific instant of media bias he though Media Matters should have covered, were they committed to bipartisan work: NBC News' Andrea Mitchell classifying Israeli Prime Minister Benjamin Netanyahu talking to President Obama "like a schoolboy." Mitchell, O'Reilly noted, is "a reporter for nbc news, not a commentator. so why the slant?" In related news, O'Reilly also highlighted Fox News' dominance on trust polls, and his own personal victory as America's most trusted news personality, after CNN's Anderson Cooper.
For a second opinion on the matter, O'Reilly brought on Brit Hume, who for the most part agreed with his assessment of Media Matters. "I think Media Matters for America is a political organization," he noted, "it's become so obvious that its only purpose in life is not to criticize journalism in any sense but to attack Fox News." The two differed on the relevance of the organization, though– Hume argued that no one "takes Media Matters seriously," to which O'Reilly offered that, given George Soros' visits to the White House, it seems the President does. On the one issue they could agree wholeheartedly? "None of this would be happening, Bill," said Hume, "if we weren't so successful."
The segment via Fox News below:

Have a tip we should know? tips@mediaite.com