Bill O'Reilly Has 'Gentleman's Disagreement' On Iranian Threat With CAIR Representative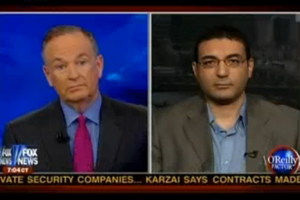 Bill O'Reilly is not letting the issue of Muslim go, even if it cost him Joy Behar's company on The View. O'Reilly invited Ahmed Rehab of the Council on American-Islamic Relations on the program earlier tonight for a lively debate in which he accused Rehab of dodging his question on whether Iran is a threat to America, Ahmed alleged the same thing about his Iranian question, and it didn't get much more conciliatory from there.
Rehab opened the conversation up aggressively, correcting a statement made on Friday's Juan Williams-hosted Factor that the Muslim community had not responded to the conviction of the failed Times Square bomber. O'Reilly thanked him for the correction but once again asked Rehab to respond to what he perceives to be the biggest threat posed by the international Muslim community, the Iranian state. "Let me ask you this," Rehab responded, "how many countries has Iran attacked in the past 50 years?" O'Reilly responded with historic notes from the Iran-Iraq War and sternly warned Rehab, "let's not play games here." This prompted a back-and-forth in which both parties accused the other of dodging the question, while Rehab interrupted by clarifying that he is "not a fan of the Iranian regime… I just don't like it when you exaggerate the reality."
O'Reilly agreed to a "gentleman's disagreement" with Rehab on whether the "good Muslims sit it out" or are vocal enough against extremism, an incredibly agreeable tone considering the extent to which the two challenged each other's opinions during the segment.
The conversation from tonight's Factor via Fox News below:
Have a tip we should know? tips@mediaite.com