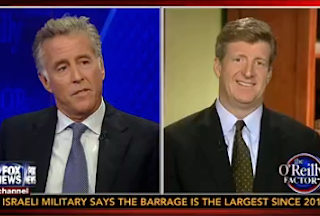 Fox News may feature more opposition voices than MSNBC does, but that doesn't mean it's always "fair and balanced." Wednesday night, Bill O'Reilly hosted a debate on the burgeoning marijuana industry between two men who are vehemently against the decriminalization of the drug. They happened to both be on the liberal end of the spectrum, but they were only there to agree with O'Reilly.
O'Reilly began his segment by discounting the $2 million in taxes Colorado has collected during its first month of selling legal recreational marijuana. "I believe the amount of damage being done to Coloradans in the form of addiction, driving problems, other social ills, will cost that state far more than it's taking in," he said.
Former Congressman Patrick Kennedy (D-RI), a former prescription drug addict who has been one of the most prominent anti-pot voices in America of late, railed against the nascent marijuana industry for targeting teenagers… some time in the future. "They are going to make their money off of people like myself who are addicts and I just don't think this is the kind of thing that makes our country stronger, families stronger and of course jeopardizes the public health at large," he said.
O'Reilly played his best devil's advocate, testing Kennedy with the common argument that alcohol is worse than marijuana so it's "not fair" to keep weed illegal. "I say two wrongs don't make a right," Kennedy dutifully responded.
Just when viewers may have thought O'Reilly's next guest would argue the other side of the issue, Christopher Kennedy Lawford came on even stronger against legalization. "The two most damaging drugs on the planet are legal alcohol and nicotine, we don't need another legal drug," he said. "Legalization will increase prevalence. Our youth are at risk."
The three men continued to agree with each other for another few minutes before O'Reilly told them, "you both made very good points tonight." He ended the segment by telling them, "I can't thank you guys enough for coming in, you made excellent points."
For anyone who really hates marijuana, this must have been one of the most affirming few minutes of cable television they have ever seen. For the rest of the country, it was a disturbingly one-sided "debate" that did very little to further the conversation on this important issue or make Fox viewers think about anything in a new way.
Watch video below, via Fox News:
[photo via screengrab]
— —
>> Follow Matt Wilstein (@TheMattWilstein) on Twitter
Have a tip we should know? tips@mediaite.com