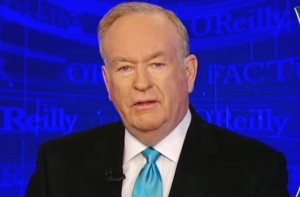 Bill O'Reilly tonight devoted half of his fact-checking segment Truth Serum to firing back at CNN for a segment he believed distorted what he said.
On CNN earlier this week, Chris Cuomo was talking about the attacks on the judge with a panel, and he brought up O'Reilly––saying with some incredulity that O'Reilly apparently doesn't want the judge to recuse himself based on the merits, but because of "the perception." David Gregory said, "That is based on a racist attitude."
Now, O'Reilly did say on Monday that Judge Gonzalo Curiel should recuse himself. He insisted it was "not because he did anything wrong––he didn't––but to eliminate any doubt as to the motivation in court rulings."
You could almost say it's an issue of perception, like… oh yeah, Cuomo did.
But it bothered O'Reilly very much tonight that CNN focused on the racism and not "on the political point"––namely that because this is an election and Trump is angry, Curiel should recuse himself due to the political considerations. (Megyn Kelly took on this argument after O'Reilly made it and said if it was that easy for litigants to get judges removed, there would be "chaos in our court system.")
And so O'Reilly and Eric Shawn proceeded to "fact-check" what CNN said about O'Reilly's own statements.
O'Reilly made it clear his analysis had nothing to do with race, he just wants all doubt about the fairness of this case removed.
Watch above, via Fox News.
[image via screengrab]
— —
Follow Josh Feldman on Twitter: @feldmaniac
Have a tip we should know? tips@mediaite.com
Josh Feldman - Senior Editor