Bill O'Reilly: It's 'Astounding' That Obama Didn't Bring Up Romney's '47 Percent' Comment At Debate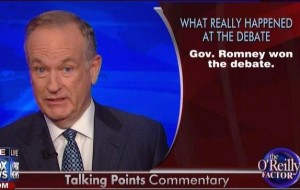 Bill O'Reilly agreed with the overwhelming consensus that Mitt Romney won the presidential debate last night. O'Reilly said Obama came across as too professorial and agreed that the president didn't seem like he wanted to be on stage. But what O'Reilly found most striking about Obama's performance last night was the fact that he did not confront Romney with the "47 percent" comment the Republican candidate made in a video leaked last month.
RELATED: Democratic Congresswoman Says Obama Was Just 'Tired' After Dealing With Important Issues
O'Reilly said he could tell that Romney won the debate merely by changing the channel to MSNBC. He compared the liberal network's commentators to the French watching German soldiers marching into Paris. O'Reilly credited Obama for generally being a good debater, but argued that he "meandered" during last night's debate and came across as a "boring college professor."
O'Reilly then asked why the president did not bring up Romney's "47 percent" comment, in which Romney said that nearly half of Americans would never vote for him because they are too dependent on government. O'Reilly said it was "astounding" that Obama never brought it up.
As for the media reaction to the debate, O'Reilly mocked Al Gore for suggesting the altitude was to blame for Obama's poor performance, asking if Gore was "high when he said that." He cited polls showing Romney had an overwhelming victory over the president, and predicted that as a result of the debate, the Obama campaign's attack ads will not be taken as seriously and the president will lose steam in the polls and the "adoring media."
Watch the video below, courtesy of Fox News:
—–
Follow Josh Feldman on Twitter: @feldmaniac
Have a tip we should know? tips@mediaite.com
Josh Feldman - Senior Editor