Bill O'Reilly, Jon Stewart Spar Over Political Conventions, Sandra Fluke In Preview Of Upcoming Debate
Bill O'Reilly, Jon Stewart Spar Over Political Conventions, Sandra Fluke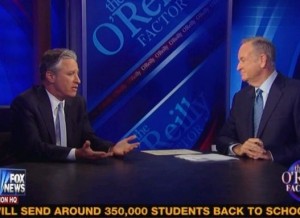 Ahead of their debate — ahem, Rumble — slated for next month, Jon Stewart paid Bill O'Reilly a visit on Tuesday night to talk politics. The pair promoted their upcoming event, while also providing a little teaser as they delved into discussing the recent political conventions.
Alluding to Star Wars' Luke Skywalker and Darth Vader, Stewart told O'Reilly, "I sense there is still good in you." This debate, he said, rests on his belief that he can bring O'Reilly back "from the dark side."
While Stewart and O'Reilly were both at the convention in Tampa, Stewart noted that he wasn't allowed on the floor, at which point O'Reilly took the opportunity to note that he'd only mock them there. Moving on to the Democratic National Convention, Stewart said he was impressed "the whole thing didn't descend into anarchy," that they "surprisingly did a very nice organizational job." Naturally, a back-and-forth spat about Sandra Fluke, women's health and taxpayer money ensued — coming to no conclusion, as the two segued into the next topic.
On the Republican side, Stewart said Clint Eastwood's convention speech was "great." Such events "are scripted infomercials," he said — but Eastwood was "real" and "doing his own thing." Calling the speech "a breath of fresh air," he said he found it "hilarious," dismissing any notion that the invisible chair routine was insulting to the president.
A sparring, chummy segment all in all, which clearly saved the good stuff for the real debate. The Rumble in the Air-Conditioned Auditorium, scheduled for October 6 at George Washington University, will be live streamed online.
Take a look, via Fox News:

Have a tip we should know? tips@mediaite.com