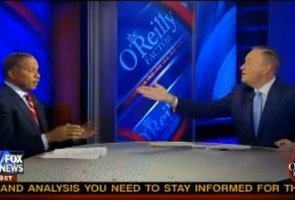 There was no question the first thing Bill O'Reilly addressed on his program would be the firing of Juan Williams from NPR over comments he made about Muslims on Monday's edition of the Factor. Sure enough, O'Reilly almost immediately called the firing a "disgraceful decision," and later brought Williams himself on to talk about it.
Frankly, it wasn't difficult for O'Reilly to find people in agreement with him. He pointed out, "Even devoted liberals are outraged," and backed it up with a segment from The View where the hosts voice universal displeasure with the firing, and Whoopi Goldberg saying it was a "total mistake"
And O'Reilly was absolutely unsparing on NPR itself, which he called "totalitarian," and especially NPR president Vivian Schiller, whom he called a "pinhead" (of course), as well as "stone-cold dumb." Taking full advantage of the opportunity to tee off on Schiller, he called her "too cowardly" to come on the Factor, though he played a brief clip of her defending the firing at a talk she gave today, saying it was unrelated to Williams' contributions to Fox News.
Then, it was time for Williams himself, who still appeared quite disappointed in NPR's decision, to appear. He said he never heard from Schiller herself about his ouster, and doesn't think the firing was because of outrage his remarks caused, saying "I would've heard that night" were that the case. Additionally, he never heard from Schiller herself about his termination. O'Reilly and Williams both thought the firing had something to do with a recent $1.8 million donation to NPR by George Soros' Open Society Foundations, however, with Williams simply saying, "Money talks"
This segment was essentially set up on a tee for O'Reilly to succeed, and he grabbed hold of it with gusto. It's rare that so many people on both sides of the political aisle will agree with an O'Reilly segment, but Williams' firing was almost universally panned, and frankly, O'Reilly's savaging gave NPR's decision what it deserved. Video below.
Have a tip we should know? tips@mediaite.com