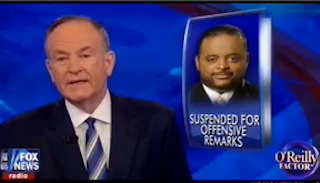 Bill O'Reilly turned his attention to Roland Martin's suspension from CNN and thought the pundit's remarks were finally catching up with him. "This is ironic because Martin himself often brands people as bigots on the air. Glenn Beck, Rush Limbaugh and me, your humble correspondent, among others. He has called organized religion 'desperately sexist' and branded tea party leaders as stupid. Karma may have caught up with Martin."
RELATED: Roland Martin's CNN Suspension: Has GLAAD Become A Bullying Organization?
LGBT activist Wayne Besen from the organization Truth Wins Out thought CNN should go even farther and fire Martin.
"What he said gives license for people to harm LGBT people," Besen opined. "Gay and Lesbian people are twice as likely than African-americans and Jews to be harmed in hate crimes. Four times more likely than Muslims and 14 times more likely than Latinos. There is a huge problem. We see it both with bullying in schools and also with hate crimes out on the streets. For someone to say because somebody looks different, because they don't like the way the handbag they are wearing is, or a number of things, these tweets gave license, I think they allowed people to justify rationalize harming gay, lesbian, bisexual and transgendered people."
O'Reilly defended Martin, saying that the CNN contributor's tweets weren't explicitly about gay people. "We have to be careful, I couldn't care less about Roland Martin, I don't follow him. I don't care what he says. I think is he a moron, but point is — he is being persecuted for mocking a soccer player and soccer player fanatics, not gays."
"We know what he meant," Besen countered.
Watch the segment below via Fox News:

Have a tip we should know? tips@mediaite.com