Bill O'Reilly, Kirsten Powers, And Republican Panelist Pile On 'Barbaric' Late-Term Abortion Policy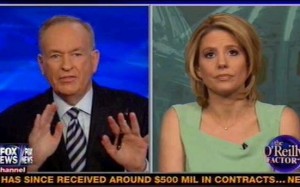 Bill O'Reilly tonight took on two big recent issues that he argued were part of an overarching acceptance of the nanny state: a judge not prosecuting a mother for taking cocaine while pregnant, and New York governor Andrew Cuomo pushing for no restrictions on abortion in New York. O'Reilly told both Kirsten Powers and Kate Obenshain that these are clear signs the United States is becoming a "barbaric" nation.
RELATED: Alabama GOP Rep.: Heavily Regulate Abortion Clinics Because Fetus Is 'Largest Organ' In Woman's Body
Powers admitted that she agrees with O'Reilly that Cuomo's abortion policy is "barbaric." O'Reilly asked her what it says about liberals that it is people on the far-left pushing for late-term abortions and defending the mother who snorted cocaine while pregnant. Powers said in the latter case the judge was forced into a corner refusing to acknowledge that the fetus was a human being. O'Reilly wanted to know "what's wrong" with Cuomo, and suggested he himself might be a "barbarian."
Despite this, O'Reilly marveled, Cuomo has an approval rating of 59 percent in New York. Obenshain attributed this to a general attitude among New Yorkers that the government is there to take care of people, claiming that the feminist movement was partly built on the fact that a baby is an "impediment." She too agreed with O'Reilly that the U.S. is becoming a barbaric nation.
Powers and O'Reilly went after the media for irresponsible coverage of Cuomo's proposal, with O'Reilly calling the New York Times in particular "zealots" for not informing people exactly what a late-term abortion entails. Obenshain added that President Obama has "refused to stand up for those children."
Watch the video below, courtesy of Fox News:
—–
Follow Josh Feldman on Twitter: @feldmaniac
Have a tip we should know? tips@mediaite.com
Josh Feldman - Senior Editor