Bill O'Reilly Knows Why Americans Are Fed Up: Too Much Political Correctness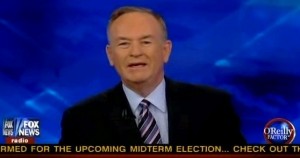 Bill O'Reilly has a bone to pick—but it's not with the Democratic party. At least, not directly. On The O'Reilly Factor tonight, the host opened by citing two polls. The first showed that only 21 percent of Americans are currently "satisfied with the way things are going," whatever that means. The second wasn't worded quite so vaguely: It revealed that 57% of Americans "believe the country is too politically correct."
According to O'Reilly, this is the real reason that people reacted so strongly to his infamous appearance on The View last week: while he was offering straight talk, the talk show's hosts were trying too hard to keep things PC. "Americans saw two opposing points of view on a very dangerous situation. I believe that there is a Muslim problem in the world, but Whoopi Goldberg and Joy Behar apparently do not see it that way and object to my assessment," he explained. In his opinion, political correctness like Behar and Goldberg's is what's really upsetting Americans these days.
O'Reilly goes on to blast a few more unsurprising targets: MSNBC, CNN, the New York Times (which is written onscreen as "The New York Times," as though that's allegedly the paper of record's name), and President Obama. Every member in this group, he says, belongs to "the PC crowd," the real source of Americans' anger.
He ends the segment with a decidedly un-PC statement: "The world is on edge because millions of Muslims accept violence and enable jihad." Here, O'Reilly may unwittingly reveal the real reasons so many Americans are upset right now: We're tired of the media acting as if crippling political correctness or blind, sweeping generalizations are our only options. Video below.
Have a tip we should know? tips@mediaite.com