Bill O'Reilly Lashes Out At Casey Anthony Jury, Grills Prosecutor On Accident Claim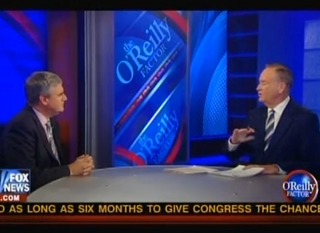 Judging from the level of outrage from Bill O'Reilly tonight, it appears he is not letting the Casey Anthony verdict go anytime soon. In a scathing Talking Points Memo calling juror Jennifer Ford's claim in an interview that she voted to acquit Anthony because it was possibly Caylee could have died in an accident. After calling her testimony "chilling," O'Reilly interviewed prosecutor Jeff Ashton, who ceded that "a shred" of evidence existed for the accident theory, but not much at all.
O'Reilly began his Talking Points Memo supporting the new proposed Caylee's Law in Florida, which would make it a felony after some time not to report a child missing. "That law should be passed immediately in every state," he argued, then turning to Ford's testimony. "There's no evidence– none– that Caylee Anthony died from an accident." Sure, he ceded, "maybe a Martian came down and put duct tape over Caylee's mouth," but barring that, O'Reilly saw no wiggle room for reasonable doubt. That Ford admitted to deciding the case based on "theories" that were not sufficiently proven, to O'Reilly, was chilling.
O'Reilly then turned to Ashton, whose first reaction to Ford's interview was "surprise" at the fact that "she went into that depth." He also shed some light on the theory that Caylee died as a result of an accident– unlike the molestation charge, the judge did allow it to be argued, and it did rely on a "shred" of evidence. "A shred that Caylee could have opened the door and climbed a ladder [into the pool] if it was there– that's the shred," he told O'Reilly.
As it was argued, Ashton noted that it was on the minds of his team, as O'Reilly asked whether the "bogus specter of an accident" was on their minds. "We felt based upon the manner Caylee was found," Ashton answered, that there was "very compelling evidence" in their favor. Ashton then gave a gruesome account of what Caylee looked like when found in photos given to the prosecution. Even with that on their side, however, Ashton noted that "the burden of proof is not on the defense to prove it was an accident," but on the prosecution to prove she was killed.
The segment via Fox News below:

Have a tip we should know? tips@mediaite.com