Bill O'Reilly: Mayor Bloomberg Showing 'Disrespect To Religion In America' Over 9/11 Memorial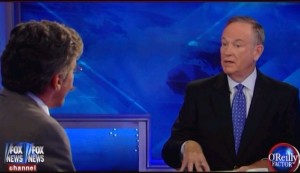 On tonight's edition of The O'Reilly Factor, Bill O'Reilly and Geraldo Rivera debated Mayor Michael Bloomberg's decision to leave first responders and members of the clergy out of a 9/11 memorial on the World Trade Center site this Sunday.
Taking a broader perspective of the national dialogue on 9/11, Geraldo referred to Ground Zero as "the most over-politicized, the most bitterly-partisan piece of real estate on earth." He agreed with Bloomberg's decision to make the 9/11 victims' families the highest priority guests for the event, and claimed "the families will be represented, not the organizations themselves."
On the other side, O'Reilly argued that this was an "American commemoration" and prominent members of all religious faiths should be invited to speak.
If I'm Bloomberg, I take a Catholic priest, a Jewish rabbi, a Muslim imam, a couple of Protestant ministers, and I put them up there. Those are the mainstream religions that dominate in this country.
As for the first responders, he suggested the remaining slots open to firefighters and police officers be decided by a lottery.
Geraldo suggested that if Bloomberg allowed mainstream religious figures to attend, he would have to extend the invitation to minor religions as well, offering up Mormons and Scientologists as an example. Geraldo also pointed out that Archbishop Timothy Dolan and various Jewish groups around New York did not have a problem with Bloomberg's plan, to which O'Reilly responded, "Doesn't matter."
O'Reilly thought Bloomberg was being ridiculous for invoking the separation of church and state at an event that, he argues, should be about religious and political unity. The memorial this Sunday is going to be an undoubtedly emotional event for many New Yorkers, so naturally the exclusion of first responders and religious leaders has drawn the ire of many people who argue their presence should be mandatory.
Watch the video below, courtesy of Fox News:
Have a tip we should know? tips@mediaite.com
Josh Feldman - Senior Editor