Bill O'Reilly On 2012: Rep. Bachmann Is A Running Mate; Herman Cain Has 'No Shot'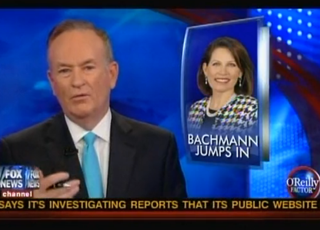 Bill O'Reilly has long considered Rep. Michele Bachmann a respectable member of Congress, but with her announcement that she is officially jumping into the 2012 Republican primary, he has vocally proclaimed that she is not cut out for the top spot. Tonight he continued to explain how he saw her as a vice president and not President and how she fared against the rest of the field with Dick Morris.
O'Reilly began his 2012 election segment by noting that he considered Rep. Bachmann impressive, but didn't see her as presidential material. Morris vehemently disagreed with both O'Reilly's claim that she could not win and his claim that she was a smart choice to complete the ticket. Of the latter point, Morris insisted once again that Sen. Marco Rubio must be the running mate because "it's obvious you need to take the Latino vote away from Obama" (he did not elaborate how Sen. Rubio's Cuban-American Republican background would convince Mexican- and South American Democrats, whose primary voting issue is immigration, to vote against Obama). Of the former, Morris explained that Rep. Bachmann was likely to win Iowa and South Carolina, leaving Mitt Romney New Hampshire. O'Reilly agreed on Iowa but not South Carolina, where he called Sen. Jim DeMint the "kingmaker."
Morris also gave Romney the best chance, but argued that Herman Cain was "the best credentialed candidate of any of them is Cain." After several Cain references, O'Reilly jokingly asked Morris whether Cain had hired him, as he argued that "he doesn't know geopolitics and is inexperienced." Ultimately the two agreed that Rep. Bachmann and Romney were the frontrunners, and likely to end up finishing at the top of the pack.
The video via Fox News below:

Have a tip we should know? tips@mediaite.com