Bill O'Reilly On Fox News' Front Row Seat: Believe Me When I Tell You, I Will Be There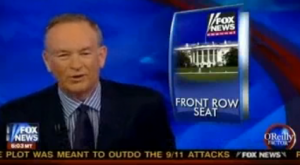 In case you couldn't tell by the twinkle in Bill O'Reilly's eye tonight, it's a good day to be working at Fox News. While some people may not be thrilled with the network getting the bump up to the front row, the Factor host couldn't have been happier with the White House Correspondents Association's choice. He warned viewers tonight that he planned on hogtying Major Garrett and getting right up in Robert Gibbs' face.
O'Reilly was having a lot of fun with the choice. He implied that President Obama might have wanted to stop the choice if he had been able to and he seemed delighted imagining himself or any of Fox's other stars sitting in the seat:
"Ok, but, you know, I might be able to sneak down there, [Fox News Washington correspondent James] Rosen, and tie Garret up. Sure, I'm a Fox News credentialed guy and I can sit in the front row and believe me when I tell you, that I will be there sometime down the line. And Glenn Beck might be there. Hannity might be there. I mean it…whoa!"
But then PoliticsDaily.com's Lynn Sweet had to go and be Little Miss Buzzkill from the land of No Funnsylvania and point out to the giddy host that he already could do that at any time and he always could have. He'd just had to do it from the second row. And then James Rosen piled on by remarking that the very tall O'Reilly really can't "sneak" anywhere.
God, O'Reilly needs some guests who like to gloat more for segments like this. Where's Bernie Goldberg when you need him?
Have a tip we should know? [email protected]