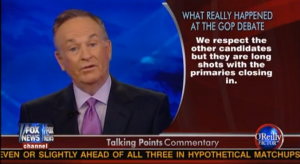 On The Factor Wednesday night, Fox News' Bill O'Reilly rated the GO candidates' performances at last night's debate in Nevada and went over some of the night's major takeaways, which are as follow:
1. Mitt Romney and Rick Perry do not like each other.
2. All the Republican candidates really do not like Herman Cain's 9-9-9 Plan.
3. Rick Perry previously lost support after sharing his views on border security and immigration, but is now trying to get that support by going after Romney for having (unwittingly and only up until he became aware of their legal status, as Romney explained) hired undocumented immigrants.
O'Reilly believes that, as the debate's moderator, CNN's Anderson Cooper should have stepped in and allowed Romney to fully and clearly respond to Perry's allegations without having Perry talk over him.
RELATED: Mediaite's Republican Debate Report Card
"Now I understand bickering is good television," O'Reilly added. "But, in a presidential debate, there's got to be a central authority, or noise wins. It's not like a cable news program where sometimes you have to let the guests fly. Perry accused Romney of hypocrisy. Cooper should have provided Romney a moment to respond without chaos."
Later, O'Reilly briefly explained Cain's tax plan, saying that it would be "a gamble" in a bad economy, but that it's a "good start" that can certainly be improved upon. As for the candidates not mentioned by name in this post? "The other candidates are the other candidates. We respect them, but they are long shots with the primaries closing in."
Have a look, via Fox News:
Have a tip we should know? tips@mediaite.com