Bill O'Reilly On Rick Perry's Debate Reviews: 'It's The Build 'Em Up, Tear 'Em Down Game'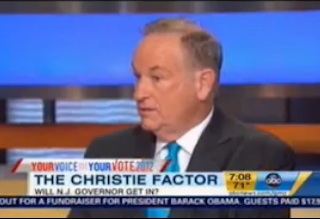 Fox News' Bill O'Reilly visited Good Morning America to offer his take on the GOP presidential field so far. He kicked things off by opining that it was too soon in Chris Christie's career — and too late in the year — for the New Jersey Governor to throw his hat in the ring, and that it would be "wiser to really establish himself in New Jersey because he hasn't been there very long."
On the subject of Republicans still keeping an eye on any potential, additional candidates — Christie, Sarah Palin and Rudy Giuliani, for instance — O'Reilly said it's merely a case of the grass always being greener on the other side, even when it comes to those candidates who have already announced their intent to run. Candidates like, say, Texas Governor Rick Perry, who, as it was pointed out, took a beating from some of O'Reilly own Fox News colleagues following his tongue-tied performance at last week's Fox News / Google debate. O'Reilly responded with a quote you might not want to read if you're sitting down at your desk with a full cup of coffee this morning:
[Fox News' Brit] Hume said he thought he barfed on himself. I was eating popcorn. Hume said that? It's the build 'em up, tear 'em down game. Not to say that Chris and Hume are wrong. He didn't have a good debate. But so what? That happens a lot.
Moving on to the incumbent, Barack Obama. Can his new tactic of confronting and criticizing Republicans when addressing his weary, wary liberal base work for him? O'Reilly thinks not:
Do I think it can work for him? No. The President will lose unless something happens. Rhetoric walks right now. People are angry. Americans are angry. When they're angry, they take it out on who is in power. If the Republicans can put forth someone, to convince Americans they have a better handle on the economy, Republicans will win.
…And is that someone already in the race?
I don't know yet. You have to give them time, these guys. It's not the easiest thing in the world. You have to see how they handle themselves over a period of time. And Americans are watching closely. But most Americans aren't even engaged yet.
O'Reilly's solution? Bring in "regular guys," "guys that don't do politics for a living."
Have a look at the segment, from ABC:
Have a tip we should know? tips@mediaite.com