Bill O'Reilly Piles On White House For Woodward Spat, Ed Henry Tells O'Reilly 'Woodward's A Big Boy'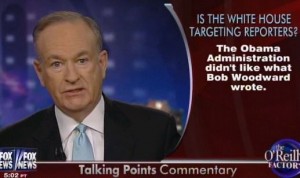 Tonight Bill O'Reilly took on the ongoing feud between the White House and veteran journalist Bob Woodward. O'Reilly said the Obama administration is notoriously sensitive about press criticism, bringing on Ed Henry and Mike Emanuel to provide more insight into how the White House deals with and attempts to control the press on a daily basis.
RELATED: Levin And Cavuto Rail Against White House's Woodward 'Threats': 'If You Dare Question Us, You'll Be Screwed'
O'Reilly agreed with Woodward's reporting that sequestration was actually the idea of the Obama administration, whom are now "spinning the issue." O'Reilly said that "no responsible administration" would ever get on board with a deal that could see a bigger increase in the debt, saying he can't fathom any reason why Obama does not want to responsibly cut spending.
Woodward and "every responsible journalist" knows this, according to O'Reilly, which is why, he presumed, that the Obama administration sent a somewhat intimidating e-mail to this. O'Reilly acknowledged there was no actual threat in the e-mail sent by White House economic advisor Gene Sperling, but allowed that this may have just been due to the unclear tone of the e-mail.
O'Reilly said that the Obama administration frequently cuts off access to any member of the press they believe is acting antagonistic towards them. He called on the media to start calling the White House out on it. Henry told O'Reilly that there is a recurring trend of the White House acting in a "disrespectful" manner towards the press, though he did admit that while they will cut off access if "you're not so friendly to them," Henry said "Woodward's a big boy" and the White House always pushes back against things they don't like.
O'Reilly asked if president's team understands that the public is turning against them on the budget, particularly given Woodward's public credibility. Henry said they think public opinion is on their side, but in private they are worried about people thinking the cuts are not effecting their lives as much as the administration warned. Emanuel explained that many people on the Hill think the Obama administration is "losing" if they're in a fight with Woodward, adding that John Boehner is frustrated that Obama is doing more to "beat up on the Republicans" than agreeing to a meaningful compromise.
Watch the video below, courtesy of Fox News:
—–
Follow Josh Feldman on Twitter: @feldmaniac
Have a tip we should know? tips@mediaite.com
Josh Feldman - Senior Editor