Bill O'Reilly Rages At Columnist Who Called Him A Homophobe: 'You're A Ridiculous Person,' 'Smear Merchant'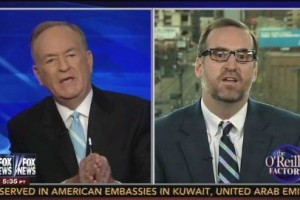 Bill O'Reilly has been very vocal pushing for "Jessica's Law," a law designed to grant mandatory minimum sentences to child sex offenders. During a recent discussion of why Colorado has not gotten its own version passed, O'Reilly brought up the fact that the state house speaker, Mark Ferrandino, happens to be openly gay. This led Denver Post editorial page editor Curtis Hubbard to call O'Reilly a "bigot" and accusing him of making Ferrandino out to be a "pervert-pedophile." Hubbard sat down with O'Reilly tonight as the host scolded him for his "disgraceful attack" and told him that he is a "charlatan" and "smear merchant."
RELATED: O'Reilly's Producer Ambushes CO House Speaker, Accuses Him Of 'Protecting' Child Molesters
O'Reilly opened by telling Hubbard that his column was "libelous speculation." Hubbard said he only raised the issue of what exactly Ferrandino's sexuality had to do with his opposition to Jessica's Law. O'Reilly explained that he merely described Ferrandino because his audience "doesn't know who the heck he is," and was trying to show that Ferrandino prioritizes issues like gay marriage and legalizing marijuana for Jessica's Law.
Hubbard shot back that O'Reilly was trying to use Ferrandino's sexuality and support for gay marriage as a rationale for why he opposes the law. O'Reilly said, "you're not telling the truth," calling Hubbard "disgraceful," a "smear merchant," and a "ridiculous person." O'Reilly repeatedly grilled Hubbard to take a stand on Jessica's Law, but Hubbard said he does not know enough about it to make a definitive statement.
This really set O'Reilly off, calling Hubbard a "charlatan" and tearing into him for writing his column without reading into what the law actually is.
"You can't win the argument. You don't know what you're talking about, Jessica's Law, you run the editorial page of the most powerful paper in the state and you don't know anything, and all you can do is smear. That's all you can do!"
Hubbard told O'Reilly that the concept of the law is flawed because mandatory minimums have "unintended consequences" and claimed that Colorado already has strong sex offender laws. O'Reilly heavily disagreed with this, and claimed if it was Hubbard's child involved in a sex offender case, "you'd be out there with a gun."
Watch the video below, courtesy of Fox News:
—–
Follow Josh Feldman on Twitter: @feldmaniac
Have a tip we should know? tips@mediaite.com
Josh Feldman - Senior Editor