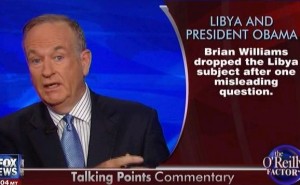 Bill O'Reilly opened his show tonight asking if recent events in Libya will lose the election for President Obama. O'Reilly appeared to be losing patience with how Obama keeps dodging questions about what happened in Libya and who told which administration officials what to say. O'Reilly also blamed the media, and Brian Williams in particular, for not actually bringing these issues up in interviews with the president.
RELATED: Brian Williams Asks Obama About Libya Attack, Lack Of Visits To Israel On Rock Center
O'Reilly brought up a report that said urgent requests for backup in the Benghazi consulate were not followed up on by the CIA. During a radio interview, Obama claimed that he was not "personally aware of" any security requests. O'Reilly sighed and criticized Obama for not being able to explain exactly what happened in Libya. He could not comprehend why the president is still unable to clarify the situation, considering how much misinformation was put out by his administration.
Of course, the media has not been very quick to hold Obama's feet to the fire on this one. O'Reilly brought up Williams' interview of the president and how the NBC newsman took a pass on actually grilling Obama on what happened in Libya. After playing the video of Obama talking with Williams about Libya, O'Reilly sighed again and said the president is just regurgitating the same answer about Libya, criticizing Williams for not following up.
"Instead of citing some inconsistencies from the administration about the Libyan attack, Mr. Williams dropped the subject, totally dropped it, after one misleading question… [and] implied that American intelligence stands behind the theory that the Libyan attack was, quote, 'spontaneous.' That was not a fact, but was presented as such by Brian Williams."
O'Reilly reiterated that the media needs to actually grill the Obama administration on what happened in Libya, instead of giving him a pass on a major foreign security issue. He said the most important question any journalist can ask Obama is
Watch the video below, courtesy of Fox News:
—–
Follow Josh Feldman on Twitter: @feldmaniac
Have a tip we should know? tips@mediaite.com
Josh Feldman - Senior Editor