O'Reilly Recruits New Colleague Stossel To Join His Battle Against War On Christmas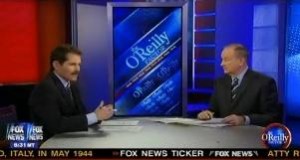 Bill O'Reilly is back this year with his annual fight against the "War on Christmas," and last night he brought on new colleague John Stossel for his usual Tuesday segment to join the fight.
Stossel played along – but didn't share O'Reilly's uproar.
"We asked Fox Business guy John Stossel, who has a new program debuting on Thursday, to make a list of Christmas friendly companies and those that are humbug people," said O'Reilly, introducing Stossel.
But 'Stossel's list' was not really his at all – it was a chance for the FBN host to talk about the lists made on StandForChristmas.com, a Focus on the Family-run site. For those curious: Sears=good, Old Navy=bad.
Although Stossel read the list, he admitted "I do not care" whether companies tell employees to say "Happy Holidays" instead of "Merry Christmas." But one thing Stossel said O'Reilly seemed to enjoy: "If I think they're being politically correct I say 'Merry Christmas' just to annoy them."
More from the exchange:
O'Reilly: You aren't offended by management saying to their employees, 'You can't say Merry Christmas'?
Stossel: No. These are scared people who frightened by the left. 'Oh, we're going to get sued for religious discrimination,' so…
Stossel's new FBN show premieres Thursday night at 8pmET (and it doesn't sound like the War on Christmas will be a focus in the coming weeks). He told the Miami Herald about the transition from ABC to FBN, and how people are "nicer to me here":
I had a nice career there. It was a good gig," he says of ABC. "But I had so many stories I wanted to do that they weren't interested in. I wanted to do much more on health care, all the potential problems with getting government more involved in health care. I wanted to do another show on school choice — I had done one on schools called Stupid In America that did quite well, and I wanted to do a follow-up. But their attitude was, 'You've already been there and done that.' Fox's attitude was, 'We like that stuff. Do it for us.'"
Here's the interview:

Have a tip we should know? tips@mediaite.com