Bill O'Reilly: Rep. Ron Paul's Foreign Policy Is 'Dangerous Stuff If You Have Power'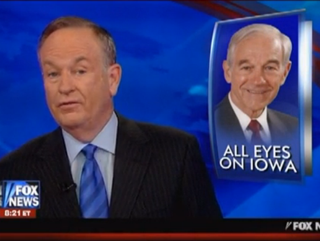 With Rep. Ron Paul consistently near the top of Republican polls since the presidential campaigns started at full speed, the Congressman's libertarian policies are receiving increased scrutiny. On tonight's O'Reilly Factor, host Bill O'Reilly and Brit Hume discussed Rep. Paul's appearance on Face the Nation, where host Bob Schieffer took him to task on his position on a nuclear Iran. Rep. Paul's answers, O'Reilly contended, were "dangerous stuff," for someone who would want to be President.
RELATED: Ron Paul In Statistical Tie For Lead In Iowa Poll; Does He Have A Shot?
"What is it about his message that has captured their loyalty?" O'Reilly asked Hume, who responded that his popularity was a result of his consistently libertarian policies. "He is the heir to a certain core of loyal supporters," Hume argued, because of his persistence politically as "pure a libertarian as you'll find in American politics today." O'Reilly responded that he did not understand the appeal of his foreign policy. "There is no way on this earth that Iran responds to somebody being nicer to them if that somebody is an American," he noted about Rep. Paul's demands for more diplomacy rather than sanctions on the potentially nuclear nation. "It's dangerous stuff if you have power to think that way," he argued, with the caveat that he did not think Rep. Paul would ever have the power to be dangerous.
RELATED: Bob Schieffer Confronts Rep. Ron Paul: Do You Think Americans Caused 9/11?
"Libertarians are deeply distrustful of government action in many measures," Hume responded, arguing that this sort of talk had an appeal for those who did not want America to be a military superpower. O'Reilly wasn't convinced. "You believe a slice of the American electorate would be not concerned if a country like Iran had a nuclear arsenal?" he asked, while Hume tried to defend the libertarian position while noting that he did not agree with it. "It snaps my head back that anybody would buy it," O'Reilly concluded.
The segment via Fox News below:

Have a tip we should know? tips@mediaite.com