Bill O'Reilly Responds To Michael Moore's Violence Claim With Original, Shockingly Tame Comments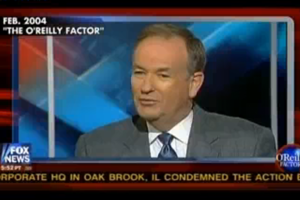 The unexpected resurrection of Bill O'Reilly's early-Aughts combative political persona continued this week even after his clash with the ladies of The View, as Michael Moore recently heralded back to the old days when O'Reilly "called for violence to happen to me." This was in 2004, but O'Reilly remembers like it was yesterday, and, shockingly, the comments were nowhere near as outrageous as Moore portrayed them.
O'Reilly kept the jokes going even as he explained the joke that got him in trouble with Moore, noting that the relationship between Moore and MSNBC is such that "I think he has a condo over there" and off-handedly calling him "this nut." Then he played the clip Moore was referencing, a discussion with former New York City Rudy Giuliani over Moore's comments that President George W. Bush was a deserter. Immediately after saying "I want to kill Michael Moore, is that alright?," O'Reilly tells Giuliani that he doesn't "believe in capital punishment," and that he was "just kidding about Michael Moore." Apparently Moore didn't think it was too funny.
O'Reilly's guests unanimously agreed on the bizarre nature of Moore's point, though expressed their points somewhat differently: Fox News contributor Arthel Neville called the comment a "wild turn" given the context of the discussion on MSNBC, and Red Eye host Greg Gutfeld went for the easy but gratifying fat joke (he apologized directly after).
O'Reilly's response to Moore and the original clip in question via Fox News below:

Have a tip we should know? tips@mediaite.com