O'Reilly Revisits Boehner's Crying Issue: "He Has To Get His Emotions Under Control"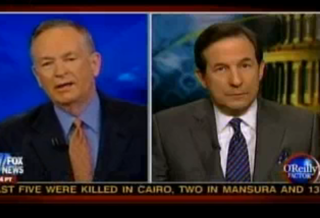 Bill O'Reilly is really starting to get concerned about this John Boehner fellow's emotional stability. Talking to guest Chris Wallace about his upcoming interview with the Speaker of the House, O'Reilly expresses something in between wonder and worry as to Boehner's propensity to cry when discussing, well, a lot of things, and even wondered whether he could be an effective leader while maintaining his emotional openness.
It's far from the first time O'Reilly mentions the subject– he admits to being "fascinated" by the Speaker's leadership-through-tears strategy– but while he had brushed the subject playfully in the past, it now appears to be a growing concern that the role of Speaker seems not to have quelled the waterworks in the former House Minority Leader. O'Reilly had previously predicted that Speaker Boehner wouldn't "govern" the way he had lead the Republicans through the Pelosi era, though it is beginning to seem now that little has changed in the Speaker. "I think he's got to get his emotions under control," O'Reilly tells Wallace, apparently surprised that the behavior has continued. He also hinted at the fact that his political opponents may be onto the weakness, even accusing President Obama of trying to make Boehner cry during the State of the Union Address by discussing the latter's bootstraps rise to the top (a surefire way of seeing some tears, though that time Boehner "held it together").
Wallace notes that, while he wasn't entirely sure he would bring up the emotional question, he had received so many questions about it during interviews leading up to his talk tomorrow that he found it impossible to resist. He also added that, with Speaker Boehner, "what you see is what you get," and that the emotions were genuine, making them a subject of even more chatter because of both their frequency and sincerity.
For O'Reilly, the emotional question is one of leadership, and in a world where "perception is reality," he has his concerns that Boehner may not come off as the kind of "General Patton" leader he needs to be to pull things off in Congress. Boehner will be on Fox News Sunday tomorrow and, it appears, will have some explaining to do about the tears– it will be interesting to note whether O'Reilly's repeated questions about the behavior will surface specifically.
The segment via Fox News below:

Have a tip we should know? tips@mediaite.com