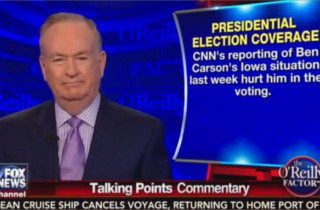 Bill O'Reilly kicked off his show Monday night by explicating the media bias he saw all over coverage of the 2016 election.
Noting that the liberal media was unsettled by Trump's "straight talk" about ending illegal immigration, O'Reilly said, "There's usually a question designed to put [Trump] on the defensive." He cited CNN's Jake Tapper defining the Iowa vote as a loss for Mr. Trump — "when, overall, that may not be the case," O'Reilly said. (Trump came in second with 7 delegates; Ted Cruz came in first with 8.)
"Again the Trump insurgency — and that's what it is — is a threat to liberal America, and the liberal media doesn't like it very much," O'Reilly said, noting that the media had been much friendlier to Sen. Bernie Sanders, even though his proposals are "impossible to achieve."
O'Reilly said that the liberal media had buried Sanders' criticisms of David Brock, founder of pro-Clinton super PAC Correct the Record, by focussing instead on Rachel Maddow giving both the Democratic candidates a hug. "Can you imagine if Megyn Kelly had hugged the Republican contenders?" he asked.
He also took the opportunity to again blast CNN's reporting during the Iowa caucuses. "Finally we have established beyond any doubt that CNN's reportage of Ben Carson's Iowa situation hurt Dr. Carson in the voting. There's no doubt about it," he said. Cruz's campaign seized on CNN reporting that Carson was skipping off to Florida, and began promulgating the rumor that he was dropping out of the race — even though he wasn't, as CNN subsequently made clear. "The left-wing media didn't come down on CNN. They ripped Cruz. Does that sound fair to you? Both are at fault," O'Reilly concluded.
Republicans, he concluded, should just accept that "they are not gonna get a fair shake" in the election coverage.
Have a tip we should know? tips@mediaite.com