Bill O'Reilly Skewers Mainstream Media: Perpetuating 'Lie' That Blacks Are 'Being Hunted Down By Whites'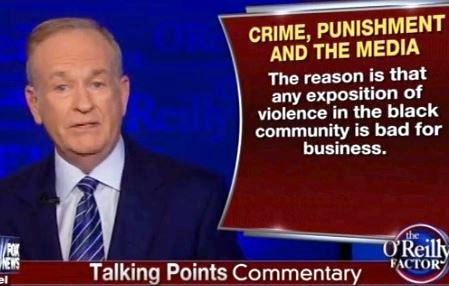 Bill O'Reilly opened his show tonight with a blistering Talking Points Memo going after the media for using the George Zimmerman case to paint a picture of a racially fractured America that doesn't exist. He accused the media of completely ignoring real problems in the black community at the expense of hyping singular issues like Trayvon Martin's death, and said that the press is being dishonest about the assertion that blacks are somehow "being hunted down by whites" all over the country.
RELATED: O'Reilly To African-American Minister: Violent Crime In U.S. 'Overwhelmingly' 'Generated By Young Black Men'
O'Reilly declared there is "no question at all that the American media is not reporting the black-white crime situation accurately." He brought up FBI statistic showing that in span of three decades, 91 percent of homicides on black Americans were committed by other blacks, while 14 percent of white homicides were by the hand of African-Americans.
O'Reilly said the media's completely ignoring these statistics, which disprove the idea they're pushing that "blacks [are] not being hunted down by whites." He claimed that black-on-black murder rate is just being "ignored by the press" because no one in the media wants to talk about minority problems. To them, O'Reilly argued, "any skepticism towards minorities is unacceptable."
O'Reilly also noted that black leaders like Al Sharpton fully know they'll be "finished if they don't toe the party line" and lamented how there is no longer "an honest arena in the press."
Watch the video below, courtesy of Fox News:
—–
Follow Josh Feldman on Twitter: @feldmaniac
Have a tip we should know? tips@mediaite.com
Josh Feldman - Senior Editor