Bill O'Reilly Supports Obama's BP Effort: "I'm Happy There Is $20 Billion In Play"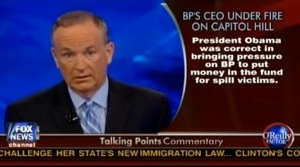 As we saw yesterday with the gross overreach by Rep. Joe Barton, the BP oil disaster has become a very tricky issue for conservatives trying to score political points. The lack of effective government oversight, combined with a"drill, baby, drill" pro-drilling mindset (and a platform that traditionally prioritizes a free market over government intervention) makes for a challenging political environment. Enter Bill O'Reilly, who last night cut through the fray in a smart and reasoned assessment of the recent negotiations between BP and the White House.
In last night's opening "Talking Points" segment of The O'Reilly Factor, the cable news ratings leader used his platform to lay out the many different sides of this complicated issue, ultimately arriving at the point that he was happy that the President got $20 billion for victims of the oil disaster in the Gulf.
O'Reilly summed up thusly:
Talking Points believes that BP was derelict. It ignored warnings about the now destroyed deep water well and may have done so to save money. It is the job of the federal government to protect the American people. In this case the Feds did not monitor BP closely enough. But that's history.

Now the important thing is to clean up the Gulf and to help folks who have been harmed by the spill. BP should pay for all of that. All of it. And Mr. Obama was correct in bringing pressure on the company to pony up the money. I don't really care how the president did it, I'm happy there is 20 billion in play and more to come. And we will watch that money to make sure it gets to the right people and places.

Politics aside, this whole thing is BP's fault. Hayward would be smart to just admit that and take his lumps.
O'Reilly then brought on regular guest, conservative talk radio host Laura Ingraham to discuss the White House efforts to manage this disaster. She took the more traditional anti-Obama point of view, and the seemingly more independent O'Reilly continued to defend against her attacks on the White House in a measured response.
Have a tip we should know? tips@mediaite.com
Colby Hall - Founding Editor