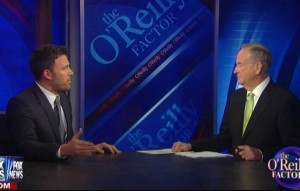 Ben Affleck has been making the media rounds to promote his new movie Argo, and tonight he appeared in the No Spin Zone to face Bill O'Reilly himself. The movie recreates the events surrounding the Iranian hostage crisis and a U.S. effort to rescue the hostages. O'Reilly asked Affleck about the politics of his film and his support of President Obama, as well as his position on raising taxes.
O'Reilly asked Affleck why he wanted to make a film about a time in history he "wasn't even conscious" during. Affleck explained that the film is half-thriller/half-political satire, but he intended it to be a "tribute" to Americans who dedicate their lives to foreign service and "what they give up" to serve their country. O'Reilly asked Affleck how his "liberal friends" in Hollywood would react to Affleck putting a positive spin on "the same people who waterboarded." Affleck dismissed the idea that it's a political film and said everyone could enjoy it.
O'Reilly turned to more recent news about Iran, asking Affleck what he makes of the nation's more recent attempts to influence global politics. Affleck said that he would not want to "outsource U.S. foreign policy to any other government," while acknowledging that many Americans do not want to get involved in another war. O'Reilly asked Affleck if he would support military action against Iran. Affleck said he would.
Turning to national politics, Affleck said he is definitely voting for President Obama next month. O'Reilly asked him to list one big thing Obama has accomplished in the last four years. Affleck pointed to Obama fighting to "change the tax structure," but O'Reilly challenged him on whether that means he is in favor of income distribution. Affleck said that as a wealthy man, he is willing to pay a little more in taxes. As for Mitt Romney, Affleck assured O'Reilly he would not leave the country if the Republican wins in November.
Watch the video below, courtesy of Fox News:
—–
Follow Josh Feldman on Twitter: @feldmaniac
Have a tip we should know? tips@mediaite.com
Josh Feldman - Senior Editor