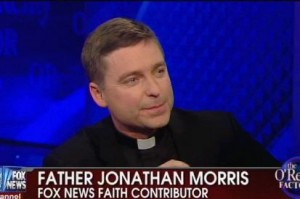 Bill O'Reilly is committed to fighting the good fight in the War on Christmas™, and not nobody, not nohow, is going to deter him from his mission, not even a Catholic priest. Father Jonathan Morris sat down with O'Reilly to defend his comments on Fox & Friends that the Christmas season should not be about anger towards others but about love and brotherhood, leaving O'Reilly to mount a defense of Christmas rage.
RELATED: Fox & Friends Gets Schooled By A Priest: 'You Guys Look So Angry About This War On Christmas'
O'Reilly admitted that he doesn't really want to be "deal[ing] with assaults against Christmas" ever year, but he continues to be utterly insulted by the way atheists and secular progressives are attempting to subvert the holiday or take the Christ out of Christmas or something. Morris clarified his point to say that of course he agrees with O'Reilly and Christians should speak out against attempts to muzzle the holiday, but suggested that Christmas is not a time for anger.
O'Reilly insisted his quest was a noble one, stating that the "forces of secularism" want to "destroy the Christmas tradition." He said that religion is slowly but surely "losing the [culture] wars" on issues like abortion and gay marriage because church leaders are not being vocal enough. Morris said that leaders have a responsibility to "stand up and to believe and to profess their belief."
Morris also tried to challenge O'Reilly's bizarre insistence that Christianity is a philosophy, not a religion, and O'Reilly promised to have Morris back so they could have that discussion soon.
Watch the video below, courtesy of Fox News:
—–
Follow Josh Feldman on Twitter: @feldmaniac
Have a tip we should know? tips@mediaite.com
Josh Feldman - Senior Editor