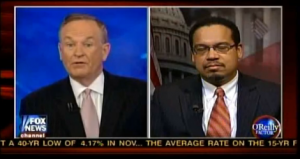 On today's episode of The Factor, host Bill O'Reilly spoke with Democratic Minnesota Rep. Keith Ellison, who made headlines earlier with his impassioned, tearful speech at Rep. Peter King's congressional hearings on radical Muslims in the America.
O'Reilly asked Ellison whether he would want to know if Muslim extremism was being taught within American mosques. Ellison responded thusly:
Well, I'm not sure I buy your basic premise either, Bill, but I will say this: I think that it's very important to understand as much as we can about violent extremism in the Muslim community and throughout any community. I mean, the fact is, is that. My problem was the demonization of a singular community and, as we know, Timothy McVeigh, violent extremist, murdered Americans. Jared Loughner. People who committed horrific acts at Columbine. This is not simply a problem with the Muslim community, but, in fact, I am concerned about that problem too. And that's why I have spoken out and written and supported legislation on these points.
O'Reilly then asked Ellison to clarify what he meant by O'Reilly's "premise," with Ellison claiming that the Fox News host was using "loaded words," like jihad. Ellison then did not issue a rebuttal or clarification of O'Reilly's definition of jihad as "a holy war, using violent tactics to advance the cause of Islam."
The two men then debated whether King's hearings could be compared to previous efforts to investigate Italians in the U.S. for mafia-related activity. Ellison said that the focus was on the mafia and not on the Italians who may have been a part of organized crime, and that he wouldn't have had an issue with the government focusing on terrorist networks themselves and not on Muslims who may be a part of these networks in the U.S.
Watch the full segment, via Fox News:
Have a tip we should know? tips@mediaite.com