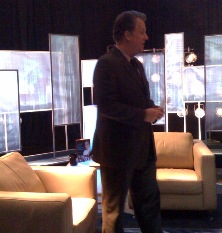 What did then local news reporter Bill O'Reilly do when 60 Minutes anchor Morley Safer cut him in the Cafeteria line at CBS?
You'll find out the answer to that and more when O'Reilly's CenterStage interview on YES Network (Yankees network) airs next month. We were there for the taping today – here's more of what O'Reilly had to say.
For those who aren't familiar, CenterStage, hosted by Yankees announcer Michael Kay (pictured), is an hour-long interview show that has guests from inside sports and beyond. The interview today focused on O'Reilly's life growing up, his career and his political beliefs, only momentarily drifting into the sports world.
His media heroes spanned the industry: Howard Cosell, Tom Snyder and Peter Jennings.
The Fox News superstar had a lot to say about his time at CBS, first at WCBS when he was chided for a question he asked former New York Governor Hugh Carey. O'Reilly asked the Governor if his low approval ratings could be a result of his new wife (who had low ratings herself at the time), and it got O'Reilly in trouble with the higher-ups. He also described a near-death experience while working for CBS News, reporting in Buenos Aires, although the way CBS and Dan Rather used the footage caused a falling out with the network. O'Reilly wouldn't get into specifics, but said the situation described in his novel Those Who Trespass was "100%" accurate to the real life situation (here's some more background on that).
Of course the place O'Reilly has thrived is as the top cable news host, at Fox News. When he joined the network, he said he had a plan already in place for The Factor, and upon meeting with Roger Ailes was ready to make his pitch. Ailes didn't need to see the plan. "When can you start?" O'Reilly recalls his boss saying. He said the biggest moment in his career was when The O'Reilly Factor moved past Larry King in the ratings. And the only other current cable news host he mentioned was his colleague Glenn Beck, when describing his feelings on the country. "I'm not buying gold, digging a bunker," he joked.
O'Reilly also weighed in on Billy Joel (who he knew in high school), Howard Stern (who he knew in college), Tom Hanks, Mets star Keith Hernandez and more. The interview airs in April.
Oh, and as for what he said to Safer – the junior reporter, who is more than a foot taller than the anchor, said, "Morley, the line's back there."
—–
» Follow Steve Krakauer on Twitter
Have a tip we should know? [email protected]