Bill O'Reilly Taunts Donald Trump: 'Are You The Most Sensitive Guy In The World?'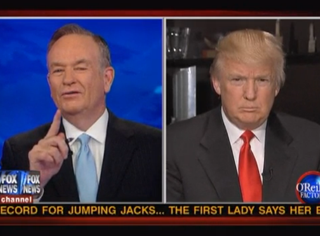 Donald Trump and Bill O'Reilly had a bit of a friendly scuffle tonight during a discussion about Trump's policies and potential upcoming presidential debate. Trump took umbrage at O'Reilly claiming that Trump had wanted to be on the program and not that he was doing O'Reilly a favor and brought it up in the middle of an answer on China and OPEC. That prompted O'Reilly to question his thick skin, or lack thereof. "Are you the most sensitive guy in the world?" O'Reilly asked rhetorically, suggesting that Trump wanted to "kick butt everywhere" but wasn't comfortable receiving attacks.
RELATED: Donald Trump Blasts Michele Bachmann For Bailing On Debate: 'It's Called Loyalty'
O'Reilly introduced Trump by noting that his book was about wanting America to "kick some serious butt all over the place." To that end, O'Reilly asked Trump, "who should we kick first and hardest?" Trump gave an answer on China and the "zero leadership" of the Obama administration, but then quickly shifted gears to note of his new book, "the book is doing great. You asked me to be on the show, I didn't ask to be on the show." To that, O'Reilly protested that Trump needed to "lighten up" and joked with him that his standing in Barbara Walters' "most fascinating" people list of 2011 "totally destroys her credibility." "I actually told her that," Trump joked back.
O'Reilly then responded by asking Trump if he was "the most sensitive guy in the world" and arguing that "you want to kick everybody's butt, but somebody makes fun of you and you're all over the place!" "I don't think I'm that sensitive," Trump shrugged, though O'Reilly pressed on, asking teasingly "How long have you known me, 35 years?" "Too long," Trump responded.
RELATED: Breaking News: Megyn Kelly Confirms That Donald Trump's Hair Is Real!
The two continued their conversation amiably, though towards the end O'Reilly felt compelled to ask whether Trump was "still a little sensitive, or are we okay?" "I love you when you're factual," Trump replied, "and when you ask me to be on the program, say 'I asked.'"
The conversation (and subsequent ribbing towards the end of the program) in two parts via Fox News below:

Have a tip we should know? tips@mediaite.com