Bill O'Reilly Tells Leno He Would've Debated With Trump, Explains Umbrella Attack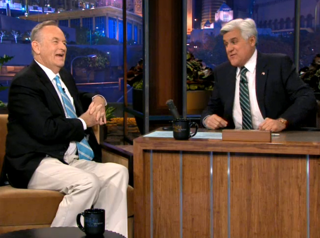 While the Donald Trump debate is perilously close to cancellation, one pundit is willing to admit that, had he been a candidate, he would've gladly participated. Bill O'Reilly told Jay Leno last night that, given the sort of audience a Trump debate could attract, he didn't understand why candidates wouldn't want to go, as well as giving Republican primary predictions and explaining how he ended up umbrella-attacking a heckler.
RELATED: Bill O'Reilly To Jon Stewart: How Can You Watch 8 Hrs Of Fox And Still Be A Pinhead?!
Telling Leno that he thought the primary elections were down to Mitt Romney and Newt Gingrich unless "somebody really was dramatic" during a primary debate, he discussed Rep. Nancy Pelosi's claim that she had more dirt of Gingrich suspect– "Do they have anything on Newt Gingrich? What more could they have?" he asked incredulously. He also noted that he understood why Rick Perry targeted gay soldiers in his latest ad (which Leno admitted seriously incensed him), but that it probably won't help.
The two had the most laughs over Herman Cain, however, who O'Reilly admitted was never a serious candidate. "There's no downside to running for president other than being torn to pieces," O'Reilly explained, "you get famous and you go on Dancing with the Stars… you can hang out with Snooki!" He added that "when Herman Cain was in the lead, nobody was more surprised than Herman Cain."
RELATED: Bill O'Reilly Gets Ambushed In DC, Though Not At Gingrich Fundraiser As Reported
Leno asked, finally, about the Trump debate, which O'Reilly explained was attracted people "people who don't normally watch would watch," providing a venue for new voters. He also explained why he opened his umbrella at a heckler that followed him the one block from the hotel in which he was staying in DC to the White House– for his own safety, having a laugh but noting that attacks on famous people were a "serious issue."
The interview (in two pieces) via NBC below:
Have a tip we should know? tips@mediaite.com