Bill O'Reilly: The Liberal Media Is Mocking Rubio's Water Moment To 'Marginalize' Him As A 'Buffoon'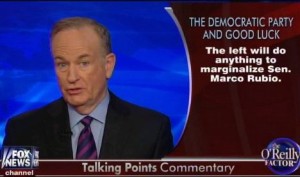 Bill O'Reilly is none too amused about news channels replaying the now-infamous clip of Marco Rubio reaching for a quick sip of water during his State of the Union response on Tuesday. The incident, regrettably dubbed "Watergate," has been aired a number of times on MSNBC and CNN. O'Reilly surmised that the only reason the Rubio clip is getting so much airtime is because the liberal media is trying to "marginalize" and "diminish" Rubio by making him out to be a "buffoon."
RELATED: Fox's The Five Attacks CNN And MSNBC Hosts For 'Obsessing' Over Rubio's 'Water-Gate'
O'Reilly said that Democrats were very lucky in the last election because they successfully made out Mitt Romney to be an out-of-touch millionaire, and now that they've learned to "marginalize your opponent early and often," they're setting their sights on Rubio. O'Reilly cited a media study finding that while Fox News ran the clip 12 times, CNN ran it 34 times, and MSNBC ran it a whopping 155 times (101 of which were on Rachel Maddow's show as a looping corner graphic).
O'Reilly concluded that the only reason the clip is getting so much play is because the media is trying to "diminish" Rubio and make him out to be a "buffoon." After running a montage of late night comics having fun with Rubio, O'Reilly said the message of all this is "Rubio is a rube."
He suspected that if a liberal politician took an awkward sip of water during an address, it would not have gotten this much coverage. O'Reilly bemoaned how "TV news has morphed into propaganda" and how far the media is willing to go in order to marginalize conservatives.
Watch the video below, courtesy of Fox News:
—–
Follow Josh Feldman on Twitter: @feldmaniac
Have a tip we should know? tips@mediaite.com
Josh Feldman - Senior Editor