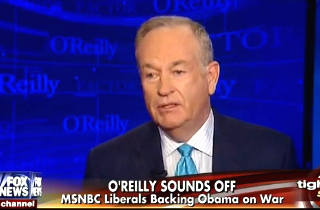 Bill O'Reilly thinks it's time for NBCUniversal to kill MSNBC and start over.
Appearing for a lengthy interview Sunday on Fox's MediaBuzz, O'Reilly eagerly touted his own viewers-boosting abilities. "[W]hen I go on Letterman or I go on the morning shows, their ratings go up," O'Reilly told Howard Kurtz. "That's why they have me on." The Fox host is currently in the midst of a press tour for his latest book, Killing Patton.
When Howard Kurtz asked O'Reilly if he'll drop the argument that he's a "lonely outsider" now that he frequents mainstream news outlets to promote his book, the Factor host replied:
At first, they tried to destroy me — "they" being the mainstream media. They couldn't; they failed. So now, I've been here 18 years, so they've kind of given that up. And so I can be a benefit to them because the ratings will go up.
And then when the conversation shifted to O'Reilly's opponents at MSNBC, he went off:
MSNBC's ratings cannot really get much lower. They're scratching, which means no one's watching them during the day, and very, very few at nigh."It's not a news organization, alright? It's a cable channel that promotes left-wing causes. Not a news organization. What I am amazed at is that NBC just doesn't pull the plug. I mean, once you fall behind CNN — which they have, CNN is now beating them — where is there to go on this thing? They're not going to be successful. They've been on the air 18 years. It's not going happen. So why doesn't NBC, with all its power and resources, use that cable network for something different and better?
Watch below, via Fox:
[h/t TPM]
— —
>> Follow Andrew Kirell (@AndrewKirell) on Twitter
Have a tip we should know? tips@mediaite.com