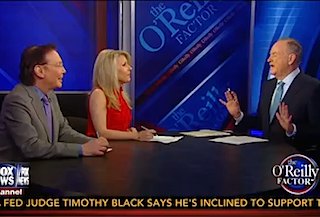 It's not every day that Bill O'Reilly accuses someone else of expressing "right-wing paranoia," but that's what happened Tuesday night when he faced off with Fox News contributor Monica Crowley over a proposed solution to the controversy over voter ID laws.
O'Reilly began his show by giving a soft endorsement to an idea put forward by former President Bill Clinton that would add photos to social security cards, which American citizens are already required to have in their possession.
"I am all for combating voter fraud by using voter I.D.," Crowley told O'Reilly. "My issue with the social security card in particular is that that is is the federal government doing it. I think it would be better left to the states." When O'Reilly protested, she said it was as if the federal government were trying to tell people, "Show me your papers."
"That's right-wing paranoia," O'Reilly told Crowley. "You're way out there on this one," he added later. Number one, everybody has already got the card, you are just putting your picture on it. There's not some bogey man who's going to come in the night and track your movement at the 7/11. It's not going to happen."
On the other side of the debate was Alan Colmes, who didn't think the Clinton plan was a "terrible idea" but had some concerns about the estimated 10 cents per card the government would need to pay to add photos.
"I feel like I'm in the 'Twilight Zone' between the two of you," O'Reilly said, casting himself as the reasonable centrist. "This just shows how ideological-driven you both are. This is just common sense."
Watch video below, via Fox News:
[photo via screengrab]
— —
>> Follow Matt Wilstein (@TheMattWilstein) on Twitter
Have a tip we should know? tips@mediaite.com