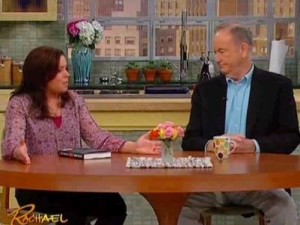 On Friday morning's edition of Rachael Ray's syndicated talk show, Fox News powerhouse Bill O'Reilly dropped by to talk politics, telling Ray the Republican Party is "disorganized" and joking that he and Ray should run the country.
Ray asked O'Reilly if he'd ever consider running for political office, a notion which O'Reilly quickly shot down:
No, it's just too much money involved and you have to go make deals with these people for money and I don't like to do that. And I enjoy what I do. I think that my job, the reason that I was born – I really believe this – was to do what I'm doing, to watch the powerful, to keep them in check.
When the subject turned to what he thinks of the current state of the election, O'Reilly maintained neutral ground, saying it's a "big presidential election, I've got to watch both these guys. I'm not a big Republican Party guy either. Because I think they're disorganized and they don't cooperate and they don't try to get things done for the folks." O'Reilly eventually added, "I think politicians in general have gotten away from helping people and I don't like that. The bottom line is Rachael and I should be running the country."
If he ran the country for one day, O'Reilly said, "I would basically say to the folks, 'Listen, we've got to put aside this partisan garbage, we all have to make some compromises.' It would be more about a spiritual uplifting type of thing. Remember: I'm only there for one day. If I were there for two days, I would deport a lot of people. They would be sent away."
Ray asked some pop culture questions of O'Reilly, like whether he'd ever consider participating in Dancing with the Stars. Showing his age, O'Reilly remarked that "Somebody actually asked me that. And I said to them, 'Only if you have a Twist show.' Remember the Twist? I can do the Twist."
Check out the full interview below, via ABC:
Have a tip we should know? tips@mediaite.com