O'Reilly Unimpressed W/ Bachmann: 'Doesn't Know Where Lexington And Concord Are'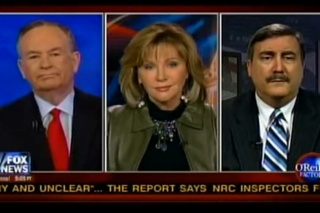 With the 2012 presidential elections somehow already on the horizon, speculation as to Republicans rising up to challenge President Obama continues to crest, and Minnesota Rep. Michele Bachmann is topping the list of potential candidates. But while some on the right consider her an "intellectual" and a potential danger to President Obama's incumbency, Bill O'Reilly is skeptical of her experience and appeal.
Talking 2012 candidates with guests Larry Sabato and Sandy Rios, O'Reilly asked both to give their take on the Minnesota representative. Sabato noted that Bachmann's State of the Union response left him less than confident in her communication abilities, noting that he "didn't see a winner there" and couldn't imagine her as "another James Gardfield… the last president to be elected from the House." O'Reilly countered that she appeared to have a "populist groundswell" and speaks "right to the wheelhouse" of the Tea Party, but this was not enough for Sabato.
Rios, on the other hand, considered Bachmann a great candidate, an opinion O'Reilly also refused to share. While he did see the possibility that the Tea Party would grow enough to make her a factor, he stopped short at Rios' description of Bachmann as an "intellectual," noting that, despite her economics background, "she doesn't know where Lexington and Concord are," referring to comments she made in New Hampshire recently confusing the towns with places in that state and not Massachusetts. "Her frame of reference is questionable at this point," O'Reilly noted, adding that he didn't see her having the type of experience to take on the presidency, either.
The segment via Fox News below:
Have a tip we should know? tips@mediaite.com