O'Reilly Uses Te'o Scandal To Go After The Internet: 'Do Not Allow The Machines To Take Control Of Your Life'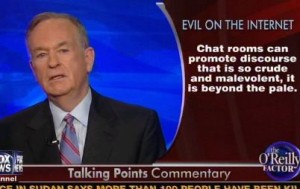 Unless you've been living under a rock or don't really pay that much attention to sports news, you may have heard about college football player Manti Te'o's brewing scandal involving a fake dead girlfriend that he may or may not have been in on. Te'o and the University of Notre Dame have claimed Te'o was part of a "catfishing" internet scam, and on his show tonight, Bill O'Reilly used Te'o's plight to go after "evil on the internet" and very forebodingly warned against the rise of the machines.
RELATED: Bill O'Reilly Takes On Misinformation On Internet, Cites Death Threats Against Him
O'Reilly said that everyone is being influenced by the internet these days, saying that "the machines have changed everything in our lives." And, naturally, with so many people all over the world using the internet, there are seedy areas accessed by very few. As O'Reilly put it, "there is a tremendous evil at your fingertips." He cited sites that feature drug dealing, violence, and rape as an example.
O'Reilly decried the coarsening of the discourse on anonymous internet chat rooms, and warned about the striking increase of people developing relationships over the internet. Which brought O'Reilly to Te'o. O'Reilly explained how Te'o's internet girlfriend wasn't even real, and the football star has claimed he was the victim of a hoax all along (though questions have been raised about this).
O'Reilly ended his talking points with a warning to all internet users.
"So once again, the internet at the center of a national controversy, and that should be a cautionary tale for all of us. Do not–-do not allow the machines to take control of your life. Don't do that. Evil operates best when it's hidden. The net is a great place to hide."
O'Reilly then brought on sportscaster Jim Gray to weigh in on whether or not Te'o was in on the scam or not. Gray acknowledged that there were plenty of holes in Te'o's story and doubted that he was not involved in some way. O'Reilly suspected that if Te'o is lying, he is at risk of tarnishing his legacy much in the same vein as Lance Armstrong.
Watch the video below, courtesy of Fox News:
—–
Follow Josh Feldman on Twitter: @feldmaniac
Have a tip we should know? tips@mediaite.com
Josh Feldman - Senior Editor