Bill O'Reilly Warns Rep. Michele Bachmann On Debt Fight: 'You Are The Renegade Here'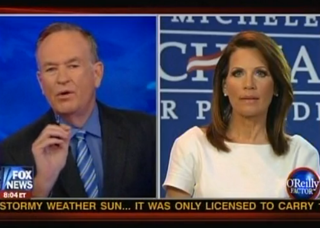 Rep. Michele Bachmann has made the current focal point of her platform her refusal to vote in favor of raising the debt ceiling, but as the budget talks evolve, the Republican leadership in Congress will appear increasingly more amenable towards the idea. Bill O'Reilly hit her with this reality during an interview on The O'Reilly Factor tonight, asking why House Speaker John Boehner disagreed with her and warning she was now the "renegade" of her party.
O'Reilly began the interview on a stern note, asking Rep. Bachmann if Timothy Geithner's claims that America will be able to pay for the obligations it currently has means he is "lying," to which Rep. Bachmann repeated several times, "he's wrong." She added that America needed "tough love" to get through the debt crisis, meaning cutting several social programs to keep the debt at bay. On that reply, O'Reilly switched gears to the debt ceiling, and why Rep. Bachmann refused to contemplate raising it.
"Speaker Boehner is willing to extend that debt ceiling– he's willing to do it," O'Reilly argued. "Your own leadership will do it. You are the renegade here. Those guys are saying 'we have to raise the debt limit.'" Rep. Bachmann replied that she had "2/3 of the American people" on her side. "Wherever I go across the country, people are saying 'Michele, these politicians don't get it. We can't raise the debt ceiling.'" She then once against made the "tough love" argument, which O'Reilly shot down if the process hurt the country, and insisted that if the Democrats "cut an enormous amount of their spending," raising the debt ceiling had to be on the table. Rep. Bachmann finally conceded that one deal she may be willing to make is to defund Obamacare in exchange for raising the debt ceiling, but, as O'Reilly noted, "that's not even on the table"– though it wouldn't need to be if Rep. Bachmann won the presidency, he noted, because she would repeal it. On that note, Rep. Bachmann departed, arguing that America needed someone with a "titanium spine" like her for President.
The conversation via Fox News below:
Have a tip we should know? tips@mediaite.com