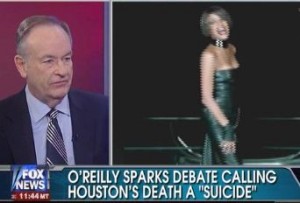 Bill O'Reilly is stirring up controversy after calling Whitney Houston's death a suicide. On Thursday, Fox host Megyn Kelly replayed the clip of O'Reilly and held a discussion on how society addresses addiction, and whether Whitney's death was intentional on her part.

O'Reilly's remarks were:
Whitney Houston killed herself. Do we all understand that? You don't use hard drugs for decades…you don't spend $100 million on them, not wanting to kill yourself.
Asking why there aren't any public service announcements discouraging kids from doing drugs, O'Reilly went on to say:
I wanna see one. There isn't any. I wanna see Snoop Dogg, Willie Nelson, all of these creeps, and I mean they are creeps, alright…celebrated and it's, wink wink, let's party, let's get high. There's nobody in the media saying, you know what? This could lead to death, and if it doesn't lead to death, 75 percent of all child abuse in the U.S. is done by substance abusers…Let's tell the truth!
Sandy Rios, president of The Culture Campaign, was among Kelly's panel, and said she "loved Bill's passion on this" and wondered why more people don't feel the same way:
We are destroying a generation of kids…Whitney, if it turns out it's drugs and alcohol, she is responsible. She is. She has abused her life, her beauty, her great talent. She did it willfully. And if that's the cause of her death, she is responsible.
Jeffery Gardere, a clinical psychologist, countered this view, saying, "Addiction is a disease. We need to remember that. … [Whitney Houston] was a woman who had an addiction. I don't know if she was suicidal…"
Though the panel disagreed over O'Reilly's comments, they did agree that there needs to be a stronger message discouraging drug use among kids — particularly emphasizing that drug use can very well lead to death.
Watch below, via Fox News:

Have a tip we should know? tips@mediaite.com