Bill O'Reilly: Why Aren't Christian Leaders More Outraged Over The War On Christmas™?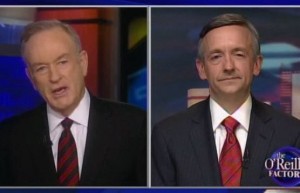 Bill O'Reilly is, let's face it, the de facto leader of the brigade in the War on the War on Christmas, mostly because actual Christian pastors have not really expressed O'Reilly's level of outrage. On his show tonight, O'Reilly asked pastor Robert Jeffress why Christian leaders have not been more outraged over the attack on Christian values. Jeffress laid the blame squarely on "wimpy pastors" and the "wimpy Christians" their congregations create.
RELATED: Bill O'Reilly Responds To The Haters Who Don't Think The War On Christmas™ Is Real
O'Reilly was surprised to read that Newsweek declared his side victorious in the War on Christmas™, pointing to important issues like Rhode Island governor Lincoln Chafee renaming the tree as a "holiday tree." O'Reilly wondered why so many Christian leaders have stayed silent on the issue. Jeffress said it is because many of them "have the wrong idea about Jesus"; namely, that he was a peaceful, non-confrontational man. Jeffress said more preachers should stop "caving in prematurely to the threats of the ACLU" and fight for their religious liberties.
O'Reilly said he has been consistently surprised by the lack of vocal outrage from Christian leaders. Jeffress laid out his main theory for why they are not speaking out more.
"Wimpy pastors produce wimpy Christians, and that is why we are losing this culture war and I believe it's time for pastors to say, you know, 'I don't care about controversy, I don't care whether I'm going to lose church members, I don't care about building a big church, I'm going to stand for truth regardless of what happens.'"
Jeffress warned of "progressive secularists" taking over the United States, and O'Reilly added that such forces are "extremely aggressive," which explains why they always shout down the Christians.
Watch the video below, courtesy of Fox News:
—–
Follow Josh Feldman on Twitter: @feldmaniac
Have a tip we should know? tips@mediaite.com
Josh Feldman - Senior Editor