Bill Press: Being Criticized By Michelle Malkin Is 'Like Being Criticized By An Ant'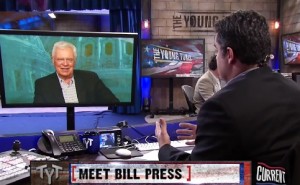 Yesterday morning, conservative firebreather Michelle Malkin took to Fox and Friends and slammed liberal radio and TV host Bill Press over his self-proclaimed "major crusade" to replace The Star Spangled Banner as our National Anthem. On Thursday night's The Young Turks, Press struck back, telling host Cenk Uygur that his conservative critics practice a "shallow" patriotism, and that "being criticized by Michelle Malkin, to me, is like being criticized by an ant."
Bill touched off a slow-news firestorm Wednesday when he lit into The Star-Spangled Banner, both for its musical qualities and lyrical content, saying "I'm embarrassed; I'm embarrassed every time I hear it."
Press' remarks about The Star-Spangled Banner, which he stands by, have been cable news fodder for several days, and have resulted in a considerable amount of hate mail for the Current TV morning host.
Cenk noted how conservatives "love to pounce on stuff like this — to paint liberals as unpatriotic," and asked Press "How does that affect how we talk? Should it affect how we talk?"
"No," Press replied. "First of all, I think it shows us how silly they are, how shallow they are, how pathetic they are — this is all they've got, right? I also think it shows that their definition of patriotism is like, bizarre, if not totally upside down. For them, patriotism is like waving a flag on the fourth of July, but then they'll go out and refuse to pay their fair share of taxes and they think that's patriotic, right? They'll bring down the government, they'll shut down the government, so they've got it all backwards."
Bill also lashed out at his hate-mailers, telling Cenk that "these guys that sign their emails, they're conservatives, and you know what else, they are Christians. And Christians can hate better than anybody I know. And I am one, but I'm just telling you."
Cenk played a clip of Michelle Malkin's attack on Press, in which she said that his rant demonstrated "how much hostility these people have towards patriotism in this country," and asked Bill for his reaction.
"Well, first of all, being criticized by Michelle Malkin, to me, is like being criticized by an ant, you know, I mean, get real," Press replied. "But I've got news for Michelle Malkin — I've been on the air a long time and I'm gonna be on the air a long time — so she better just get used to it because I'm not going anywhere and my voice is louder and stronger than hers and also, I make a hell of a lot more sense. And so do you, Cenk — so keep at it."
When it comes to conservative punditry, they don't come any bigger than Michelle Malkin, so perhaps a "swarm of fire ants" would have been more apt, but Press (who can now look forward to fresh outrage over his slamming of Christians) makes a solid point about the right's self-enforced monopoly on the definition of "patriotism," which must be of the unquestioning variety. Liberals, on the other hand, have a diverse set of ideas about America, one which, for me, includes loving my country, while at the same time handling the irony that a major cause of the War of 1812 that gave us the boastful lyric "the land of the free" was that the British were abducting Americans for use as forced labor. Yes, it's shocking that anyone would do that.
Here's the clip, from Current's The Young Turks:
Follow Tommy Christopher (@TommyXtopher) on Twitter.
Have a tip we should know? tips@mediaite.com