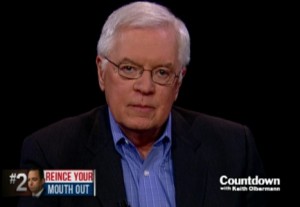 This week, viewers of Current TV's Countdown have been treated to syndicated liberal radio powerhouse Bill Press filling the anchor chair for bronchitis-stricken Keith Olbermann. Contrary to this item at Huffington Post, Press will also host Countdown's Florida primary coverage Tuesday night, along with guest analyst Eliot Spitzer (Spitzer will then fill in as Countdown host Wednesday night). Olbermann's absence may be providing viewers with a glimpse of Current's future.
The Young Turks, Countdown, and The War Room will all feature live Florida primary returns, with reporter David Shuster providing on-the-ground coverage for all three, and there's a strong possibility that Cenk Uygur's The Young Turks will go live again at 10pm.
Monday night also saw the debut of former Michigan Gov. Jennifer Granholm's new show, The War Room, which is the next step in fulfilling Current's promise to feature a 24 hour slate of news and commentary. At a press conference to roll out Gov. Granholm's show a few months ago, I pressed Current TV executives to reveal who else might join Granholm, Olbermann, and Cenk Uygur's Young Turks in the network's lineup. For some reason, they decided they'd rather unveil their programming on their own timetable. Spoilsports, I say.
Still, it doesn't take a genius to see that Bill Press, a TV veteran as well as a popular syndicated radio host, is a natural fit for Current. His appearance in the Countdown anchor chair could be an indication that a Bill Press hour on Current is in the offing. With Bill's radio show starting at 6am, he would probably be a better fit for an earlier timeslot, perhaps 6pm.
Eliot Spitzer, who's still looking for a cable news home since the cancellation of his CNN show last year, would also be a great addition to the Current slate, and his style and skill set match up well with Gov. Granholm. A Spitzer show at 10pm looks like a good bet.
Since Countdown's debut on Current TV last year, the network has been building on the audience bump they got from Keith Olbermann's hour, and have been working on signing more cable systems to allow them to reach more households. Current is now available in 60 million US households, and as they build their brand, they expect that total to increase, and with it, their programming's ratings.
Have a tip we should know? tips@mediaite.com