Bipartisanship: Keith Olbermann And Reince Priebus Agree That Eric Holder Should Resign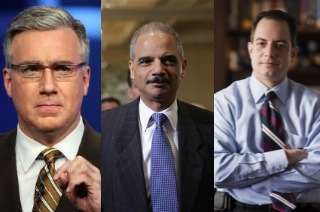 Who says there is no consensus anymore between hyper-partisan Democrats and Republicans? Well, just about everyone these days. But the usual Cassandras, often seen decrying the supposed lack of concord in Washington D.C., are unlikely to point to the developing consensus around the notion that Attorney General Eric Holder should resign as a welcome bit of political comity. Still, and in spite of the silence of the hollow, label-free political commentators who value unity for its own sake, anything that brings together former Current TV host Keith Olbermann and Republican National Committee Chairman Reince Priebus has to be worth noting.

"The First Amendment doesn't request the federal government to respect it; it demands it," declared RNC Chairman Priebus in a written statement released on Tuesday. "Attorney General Eric Holder, in permitting the Justice Department to issue secret subpoenas to spy on Associated Press reporters, has trampled on the First Amendment and failed in his sworn duty to uphold the Constitution."
RELATED: Eric Holder On AP Phone Records Seizure: The Leak 'Put The American People At Risk'
Attorney General Holder has so egregiously violated the public trust, the president should ask for his immediate resignation. If President [Barack] Obama does not, the message will be unmistakable: The President of the United States believes his administration is above the Constitution and does not respect the role of a free press.
Priebus found some unlikely allies in his call for action from the White House regarding the DoJ's decision to unilaterally obtain two months of telephone records from the Associated Press.
Making up Priebus' coalition of the willing in his crusade to force President Obama to jettison his friend and close political ally are Olbermann and progressive radio and television host David Schuster:
"If Mr. Holder continues to support this rogue action, he should resign," Olbermann declared on his Twitter account Tuesday.

"Mr. President, you must fire AG Holder," Schuster concurred.

Given all this unity, it is a curiosity as to where the members of the perpetually chagrined third way crowd are hiding? Shouldn't this be celebrated? Is this not a Kumbaya moment which merits shouting from the rooftops? Granted, Holder's potential resignation is not so much a policy achievement as it is a long-overdue correction, but it is a place to start.
Perhaps, in coming days, we will point to bipartisanship and say that this regularly lip serviced phenomenon actually accomplished something.
> >Follow Noah Rothman (@NoahCRothman) on Twitter
Have a tip we should know? tips@mediaite.com