Bishop Eddie Long Apologizes To Jewish Groups After Video Surfaces Of Him Wrapping Self In Torah, Being Crowned King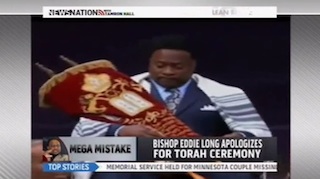 It's been a rough couple of years for Bishop Eddie Long. The senior pastor of the New Birth Missionary Baptist Church in Georgia spent parts of 2010 and 2011 facing down lawsuits from young men alleging that he coerced them into sexual acts. Long denied the allegations but the church settled the suits out of court and, shortly thereafter, his wife filed for divorce. Clearly, this is a guy in need of a new beginning. However, if you take him at his word, he appears to have chosen the wrong guy to show him how to do it.
Basically, going in front of your parishioners, being enshrouded in a sacred Jewish text, and declared king is not the way to get people on your side.
That's what Long did in a ceremony that caused a tidal wave of condemnation once video of it was posted online with the catchy title "New Birth Crowns Eddie Long as King Of The Jews."
Long issued an apology to the Anti-Defamation League which they have since accepted. From CNN.com:
"'The ceremony was not my suggestion, nor was it my intent, to participate in any ritual that is offensive in any manner to the Jewish community, or any group. Furthermore, I sincerely denounce any action that depicts me as a King, for I am merely just a servant of the Lord,' Long wrote in a letter dated Saturday.

The letter was addressed to Bill Nigut, southeast regional director of the Anti-Defamation League — a Jewish group that fights anti-Semitism.

'While I believe that Rabbi Ralph Messer has good intentions during his message at New Birth, I understand that the ceremony he performed on Sunday, January 29th, caused harm to the Jewish community, for which I am deeply sorry,' Long wrote.

On Sunday, Nigut acknowledged the apology and said he was grateful for it."
Rabbi Messer, the man who ran the ceremony, is a controversial figure whose church promises to teach the "Hebrew Roots of the Christian Faith." It would appear from his apology that Long will be putting most of the blame for the situation on Messer.
Whether it was his idea or not though, there's a clear lesson here. It's never a good idea to wrap yourself in a century old Torah from the Auschwitz concentration camp and call yourself king. Let us all remember that.
Watch a report on the story from MSNBC below:
Have a tip we should know? tips@mediaite.com