Bizarre American Idol Auditioner Butchers National Anthem, Begs Obama To Invite Her To White House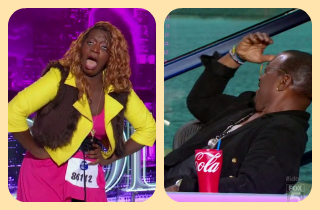 Those who watch American Idol know that each season's first few episodes contain city-by-city auditions, often (and likely deliberately) parading a handful of misfit singers who are gleefully unaware of just how terrible they really are (see: William Hung).
Millions of viewers get off on the schadenfreude of watching someone like that bomb on television and experience the cold rejection of the celebrity judges they worship.

Tonight's Idol contained what seemed to be one of those oddballs… except the end result might stun you.
Zoanette Johnson of Tulsa, Okla., made it clear from the outset that she has a… vibrant… personality. In honor of President Obama's electoral victory, Johnson decided to sing "The Star-Spangled Banner" for her audition.
At first, her voice was delightfully impressive, like an over-the-top Toni Braxton of sorts. But as the performance moved along, she became more and more bombastic — nearing a shout — with plenty of giggle-worthy vocal tricks thrown in. At one point, judge Keith Urban fell out of his chair, Randy Jackson laughed with what seemed like disbelief. And then Johnson ended the national anthem with what could only be described as an ugly, goofy, out-of-tune attempt at changing octaves.
Before the judges could announce her fate, the auditioner went through a series of dances, stomps, and then a random "dramatic" outburst. Looking as though she was going to cry, Johnson said, "I hope Obama. Hold up. Obama, I hope you're watching this and you gonna invite me to the White House."
"Huh?" a confused Jackson asked.
"He better invite me to the White House. He need another Barbie in the attic," Johnson continued, referring to judge Nicki Minaj's "Barbie" persona.
All in all, it was… bizarre. And the faces of Urban, Jackson, and Mariah Carey made clear that nearly everyone in the room was either confused or uncomfortable (Minaj was openly impressed).
But then, the whole thing got even stranger: the judges all voted "YES." Despite the previous four minutes feeling like one of the show's most memorable early-stage trainwrecks, the judges passed Johnson on to the main Hollywood portion of the show.
It will undoubtedly make for good TV… I guess?
Watch below, via Fox:
— —
>> Follow Andrew Kirell (@AndrewKirell) on Twitter
Have a tip we should know? tips@mediaite.com