Bizarre: Falsely Accused Ricin Suspect Claims His Campaign Against Donating Cancerous Organs Led To Arrest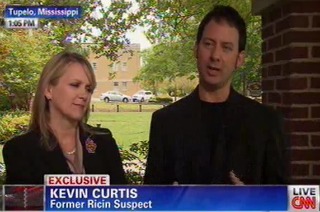 Kevin Curtis, the Mississippi man falsely arrested in connection with sending ricin-laced letters to lawmakers and the President of the United Sates, told CNN anchor Chris Cuomo on Wednesday that it was possible his activism had led authorities to consider him a suspect. Curtis noted that he has regularly written Congress to advocate for the regulation of organ donating, saying that it his among his goals to ensure that cancerous tissues are no longer placed in living people. He elaborated on a number of scenarios that he believes his controversial advocacy may lead to, including seeing his home burnt down and having his pet's throat cut.

RELATED: Suspect Accused Of Mailing Ricin Poison To Obama, GOP Senator Released From Detention
"Given the intensity of the allegations and the energy being focused at you, did you think that you were not going to get out of this situation no matter what you believed to be true?" Cuomo asked.
"I told my family over the last couple of years – and I always say 'they,' I never say police, FBI, CIA – but whenever speaking of all the research in bone, tissue, and organ harvesting, which has ruffled a lot of feathers in Washington and China and different places where there is a black market for bone, tissue, and organ, and body part marketing – sure," Curtis replied.
Curtis noted that he has repeatedly asked members of the House to regulate bone, tissue, and organ harvesting, "so people will stop dying, so cancerous material will stop being placed into healthy people and they will get diseases by trained tissue."
"So, when I began trying to push through Congress, strange things started happening," he continued. "I became a person of interest, if you will."
Curtis told Cuomo that his kids asked him if he was scared throughout this whole ordeal. "Sure, you're scared," Curtis confessed. "If you're uncertain if you're going to walk out of a door, there's cars running you off the road, your home's burning down, your dog's having their throat sliced…"
"All of this outside intrigue, we'll kind of leave to the outside for a second," Cuomo interjected.
Watch the clip below via CNN:
> >Follow Noah Rothman (@NoahCRothman) on Twitter
Have a tip we should know? tips@mediaite.com