Bizarre: Greta Van Susteren Reveals Details Of Her Complex Relationship With 1980s-era Stalker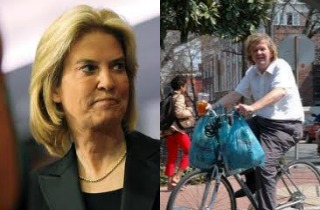 Fox News Channel host Greta Van Susteren took to her blog on Thursday where she opened up about her relationship with a stalker who shadowed nearly her every move in the 1980s. In the revealing post, Van Susteren discusses how her stalker made her feel, and how she came to have a complicated relationship with both him and his family.

"[Fox News anchor] Shannon Bream and I were talking the other night in my office about stalkers," Van Susteren began. She told Bream that she had a stalker herself for "5-7 years in the 1980s" while she was practicing law.
"He had a weird look," Van Susteren revealed of her stalker, Randy Lokke. "His hair was never combed, hung in his face and he had an awkward twitch and grin."
Over the years and years of him stalking me, I spoke to his family about trying to get him to stop…his Mother was very sweet to me and understood why I was distressed by the situation….the US Attorney's Office in DC arrested him one time and held him overnight (I always thought they did it because they thought it would look bad if I – a defense lawyer – were found murdered and floating in the Potomac River when they were aware of the problem and had done zero)…I tried everything to get rid of him …I was nice to him to get rid of him…mean to him to get rid of him…ignored him etc. Nothing worked. He was fixated. It was really weird — every place I would go, he would be there…with me. He could find me. It was almost as if he had my phone bugged, too. I had dinner one night with a friend and there he was! Worse, he stood next (yes, next!) to the table overlooking us and just grinning. It not only was weird, it must have looked weird to everyone else in the restaurant. I had the restaurant make him leave.
And then, Van Susteren learned that, on a recent Christmas Day, Lokke passed away. "Strangely, I felt bad," Van Susteren confessed. "He had followed me for so many years that I felt I knew him quite well."
She went into extensive detail about the many experiences she and her professional colleagues in law had with Lokke and their extensive efforts to get him to desist in his stalking – all to no avail.
People asked me why I never tried to get him arrested (other than that one arrest by the US Attorney) and the answer is simple: he violated no law and you can't arrest someone for lawful conduct. There were no anti-stalking laws at the time.
"I had no fear of Randy," Van Susteren wrote. "I was used to him. He was really weird… and a pest… but after years of him stalking me and being a pest, I had no fear."
Finally, she added, Lokke himself ceased his stalking activities when he "dropped me" for a "younger and prettier woman – a 21-year-old law student."
"Imagine – getting dumped by your stalker!" Van Susteren exclaimed. She saaid that she and her husband ran into Lokke about two years ago while he was bicycling around and wearing only a swimsuit.
It is weird, but I feel bad about Randy. He obviously had some weird problem. He was a troubled person. It turned out he was not dangerous…he was just weird and a pest….but how would anyone have known?
Read the full confession via GretaWire
> >Follow Noah Rothman (@NoahCRothman) on Twitter
Editor's note: This post has been edited since its original posting – Jon Nicosia
Have a tip we should know? tips@mediaite.com