Did Fox & Friends Get Punked, Or Was This Just An Amazingly Bizarre Interview?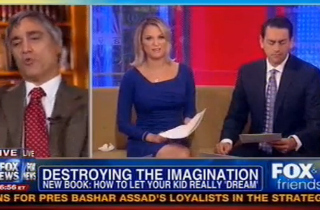 A bizarre interview on this morning's edition of Fox & Friends was quickly ended after the guest seemingly baffled the hosts with possibly sarcastic answers that were in direct contradiction to the claims in his book.
Anthony Esolen was brought on the show to discuss his book Ten Ways to Destroy the Imagination of Your Child. Co-hosts Clayton Morris and Juliet Huddy introduced it as a book about how modern "distractions" like television, video games, keeping children indoors too often, and constant parental supervision are "destroying our children's imagination."
Asked a relatively straightforward question about the premise of his book, Esolen took to a confusingly sarcastic response, saying: "We do want to destroy the imaginations of our children, otherwise our economy would collapse and people would stop buying things they don't need and don't really even enjoy."
The sarcasm(?) continued: "You can't let your kid be outside because a single blade of grass out there is a more wondrous object than anything that the kid will see on a screen in a month's time of viewing television and video games. So absolutely, you've got to keep them indoors."
Huddy tried again, asking Esolen to talk about his point that today's fairy tales are riddled with "clichés and fads" has destroyed children's imagination.
But, once again, the author's response took an odd turn: "We have done a job on fairy tales in our schools the last several years. You can't have fairy tales because they are based on what every culture really knows about human beings — it's archetypical, it's natural human knowledge. And we don't want that because that really taps in the imagination. And so instead we have to replace it with stories about who ever happens to be politically favored at the moment."
Huddy then cut off Esolen, calling the book a "great holiday gift," and ending the interview abruptly.
Watch below, via Fox News:

— —
>>
Follow Andrew Kirell (@AndrewKirell) on Twitter
Have a tip we should know? tips@mediaite.com