Bizarre TV Alert: MSNBC's Bashir Ponders Paycheck Fairness Act In A Fake Cocktail Bar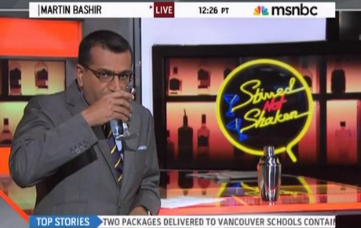 It's been a rough 24 hours over at MSNBC, given Wisconsin Governor Scott Walker's Tuesday recall victory. So it's not surprising to find Martin Bashir on camera with a martini glass in hand.
Wait, what?
On Wednesday, Bashir cut out the middleman and brought the cocktail bar to MSNBC — but not to drown his sorrows over the Wisconsin loss. MSNBC transformed the studio into a cocktail bar, complete with red lights and digital liquor shelves in the background, and a jazz track playing throughout, so that Bashir could wax poetic about the Paycheck Fairness Act, in a bizarre monologue segment the show dubbed "Stirred Not Shaken."
"The bar is always open, but you can rest assured that this is no ladies' night," Bashir began. "Today we are stirred but not shaken by the ultimate boys' club where equal work does not require equal pay, at least according to the Republicans in the Senate who yesterday voted down the Paycheck Fairness Act, legislation that sought to close the wage gap: a woman's 77 cents to a man's dollar in these tough time. Obviously not a problem to Republicans."
With sax, piano, bass, and drum blaring in the background, he continued on:
"Indeed, Senate Minority Leader Mitch McConnell dismissed the legislation before the vote saying, just like Jay-Z, they have a lot of problems but, quote, 'not enough lawsuits ain't one of them.' Is he terrified by the possibility of fairness? Does he imagine millions of women with sexual harassment attorneys on speed dial just itching to sue when a dollar for a man is cut by almost 25% before it is handed to a woman?"
Bashir then grabbed his prop martini glass filled with water(?) and said, "And so, with that we raise a glass to the mad men of [Mitch] McConnell, [John] Kyl, [John] Barrasso and [John] Thune."
Wait, why are we toasting now? I'm so confused.
He continued:
"And let's not forget Speaker [John] Boehner who, today, brushed off a letter from Nancy Pelosi, who had the temerity to suggest that the House cancel its recess next week in order to get down to some work. The gall of it! Not only do women make less than men, many of them work much harder too. Cheers."
Eh…cheers? I guess?
It's always refreshing when cable news commentary programs try to develop unique recurring segments, but this one? This one is just bizarre.
Check out the worst cheers-ing ever, below via MSNBC:
>> Follow Andrew Kirell (@AndrewKirell) on Twitter
Have a tip we should know? tips@mediaite.com